Whole House
Systems
Imagine going to any tap in your home, turning the handle, and witnessing the flow of clean, pure, soft water. It is possible if your home is equipped with the Dana 9000 Whole House System.
DANA 9000 Whole House System
This unit is our top-of-the-line soft water system capable of servicing all taps throughout your home. It's the optimal choice for those who lead busy lives and don't have time to worry about maintaining the purity of their water.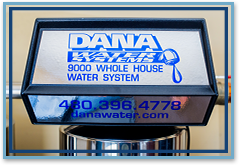 Features
No clock to keep track of
Metered system
Twin tank for no pressure drop during regeneration
Uses half the potassium chloride
Commercial grade for lifetime service
Self-cleaning filtration system
Develops purified mineral water
5-year warranty on parts and labor
Lifetime warranty on installation